Preserve the Drug / Injectible Potency and improve public health
Tessol cold chain and temperature-controlled solutions ensure the high quality and integrity of pharmaceutical products such as vaccines, biopharmaceuticals, diagnostics samples and other sensitive medical products. Our solutions provide precise refrigeration, storage, and monitoring solutions for specific temperature ranges critical to maintaining their potency and efficacy.
Key Benefits
Preserve the potency of Pharmaceutical products and ensures their efficacy,
Prevent adverse reactions and promote patient safety by ensuring quality
Increase vaccine coverage, reduce vaccine waste, and improve public health outcomes
Solutions in strict compliance with regulations for storage and transportation
Improve inventory management, and increase the efficiency of the pharmaceutical supply chain
Cold Chain Packaging Solutions
PCM Cartridges (HDPE Bottles)
IndiWRAP Gel Packs and PCM Pouches
Rotomolded Boxes and Bags
Cold Chain Refrigeration Solutions
PlugnChill for Trucks
Blast Freezers
Cold Chain Storage Solutions
IoT-Enabled Smart Cold Chambers
Cold Chain Monitoring Solutions
TAMsys® (Real-time & wireless-based temperature monitoring platform)
Phase Change Materials (PCM)
Tessol PCMs are engineered with proprietary technology and formulations that freeze and melt at specific temperatures. This enables us to maintain precise temperatures in insulated boxes/containers required to store and transport medicines and vaccines from a few hours to up to 5-6 days depending upon the requirement. PCM technology does not need external energy and is an optimal way to keep the temperature of your products without being dependent on availability of any power source.
Tessol's PCMs are available in a wide range of temperatures depending upon the application:
TP18
+18 deg C PCM is an organic renewable and recyclable BioPCM idea for multiple use movement of products in the 15-25 deg C range
TP05
+5 deg C PCM is also an organic renewable and recyclable BioPCM idea for multiple use movement of products in the +2 to +8 deg C range
TP01
+1 deg C inorganic PCM that can be used with +5 deg C PCM and independently as an solution for +2-8 deg C range
TN22
-22 deg C inorganic PCM that can be used with EPS, XPS, PUF or Vacuum panels for maintenance of temperatures in the -22 to -15 deg C range.
TN33
TN33 is another inorganic option for -20 deg C and below shippers.
PCM Cartridges (HDPE Bottles)
Tessol has a wide range of options available in HDPE Bottles that are more appropriate for your pharma products. One can choose the PCM from the above range for the same. Tessol's cartridges have some of the following key features: 
Cartridge caps are ultrasonic welded and (optionally) covered with an additional cap to prevent leakage in rough handling conditions.
All PCMs have been field tested for thermal stability above 1000-2000 cycles
We only use virgin High-density polyethylene material to withstand industrial handling
Varying sizes of molds are available, from 270 ml to 1500 ml.
IndiWRAP – Gel Packs and PCM Pouches
IndiWRAP is the best way to deliver chilled and frozen food cost-effectively. IndiWRAP, powered by our very own 'Phase Change Material' technology, is a lightweight encapsulation and uses a special version of the PCM that is designed to be used for a few freezing/melting cycles. This makes the solution cost-effective while ensuring your temperature performance is not compromised.  
Available in all PCM variants depending upon customer requirement.
Available in sizes from 50ml to 450 ml per pouch
Multi-cell pouches are available based on specific requirements – ideal for providing adequate coverage of the product
Applications can vary from 1 hour for e-commerce to upto 120+ hours for shippers of varying sizes
Rotomolded (Insulated) Boxes and Bags
Tessol has manufactured an array of temperature-controlled carriers, which consist of single use and multi use shipper and bags. These validated solutions have been tested for Pharmaceutical products and contain PCM cartridges and indiWRAPs that are tailored to provide the desired thermal performance. Coming in various sizes and temperatures, these carriers can securely transport products through Air or Surface transportation.  
Wide range of sizes from small 3 liters to Pallet shippers
Can maintain temperatures for up to 144 hours in long-range shippers
Solutions are available for controlled ambient (15-25 deg C), chilled (2-8 deg C), and frozen (under -20 degC) products
Bags design is collapsible in larger sizes to ensure reduced space for storage and ease of empty reverse logistics
Custom branding/sizes can be done with minimum order volumes
PlugnChill for your Trucks
PlugnChill is a plug-and-play technology that runs on proprietary thermal batteries and chargers. It is vehicle independent and does not depend on fuel. The batteries are charged from a regular power point for 5-6 hours and maintain desired temperatures for 10-12 hours. The application relies on advanced phase change materials, heat exchangers and chargers with advanced controls.
Blast Freezer

Tessol Blast Freezers are specifically designed for faster freezing of PCM cartridges and indiWRAPS / gel packs. Tessol Blast Freezers are industrial machines designed to be rugged and energy-efficient and available in chilled and freezer configuration.
Key Features:
Rugged industrial container-type body construction for warehouse applications
Empty pull down from +40o C to -20o C and -38o C in 15 and 30 mins respectively
Flexible customizable racking, shelving & internal cladding (in SS304) based on product & application
PLUG and PLAY portable units with ease of installation and movement

Available in purchase and rental models both
IOT Integrated Smart Cold Chambers
Tessol's IoT-integrated Smart Cold Chambers provide temperature-controlled storage for perishable goods like food. The high-density polyurethane (PU) panels to insulate the walls and ceiling of the cold room help to reduce heat transfer and maintain temperature stability. High efficiency machines are specifically designed to reduce your energy bills while providing you the best quality of temperature maintenance.
Key Features:
Energy efficient units with CFC free refrigerants
Containerized and site assembled units
Deep application knowledge across product categories
IoT integrated smart cold rooms
Assure Superior Medicine Quality with Real-Time Temperature Monitoring
TAMsys, Tessol's IoT based monitoring platform, enables you get end-to-end monitoring of their cold chain network and assess performance and temperature compliance across their cold assets. The TAMsys platform comes with a suite of hardware and software elements that form the building blocks of the monitoring network, which is equally easy to deploy and scale. Its powerful and easy to use cloud software and mobile apps enable users to get real time data, alerts, extensive reports and detailed analytics on their fingertips.
Key Features:
Advanced long life data loggers with Bluetooth and wireless connectivity

Sensors specifically calibrated for higher sensitivity towards sudden temperature variations, and measuring low temperatures up to -40degC

Advanced cloud-based alerts engine – Useful for gathering trip data and ensuring trip compliance

Provision for device level real time alerts – Useful for Diagnostics Samples pickup and Pharma last mile delivery services

Data vizualisation tailored for Diagnostics, Pharma ecommerce, Long Haul Logistics, etc

Software SDKs for data and functional integration to client applications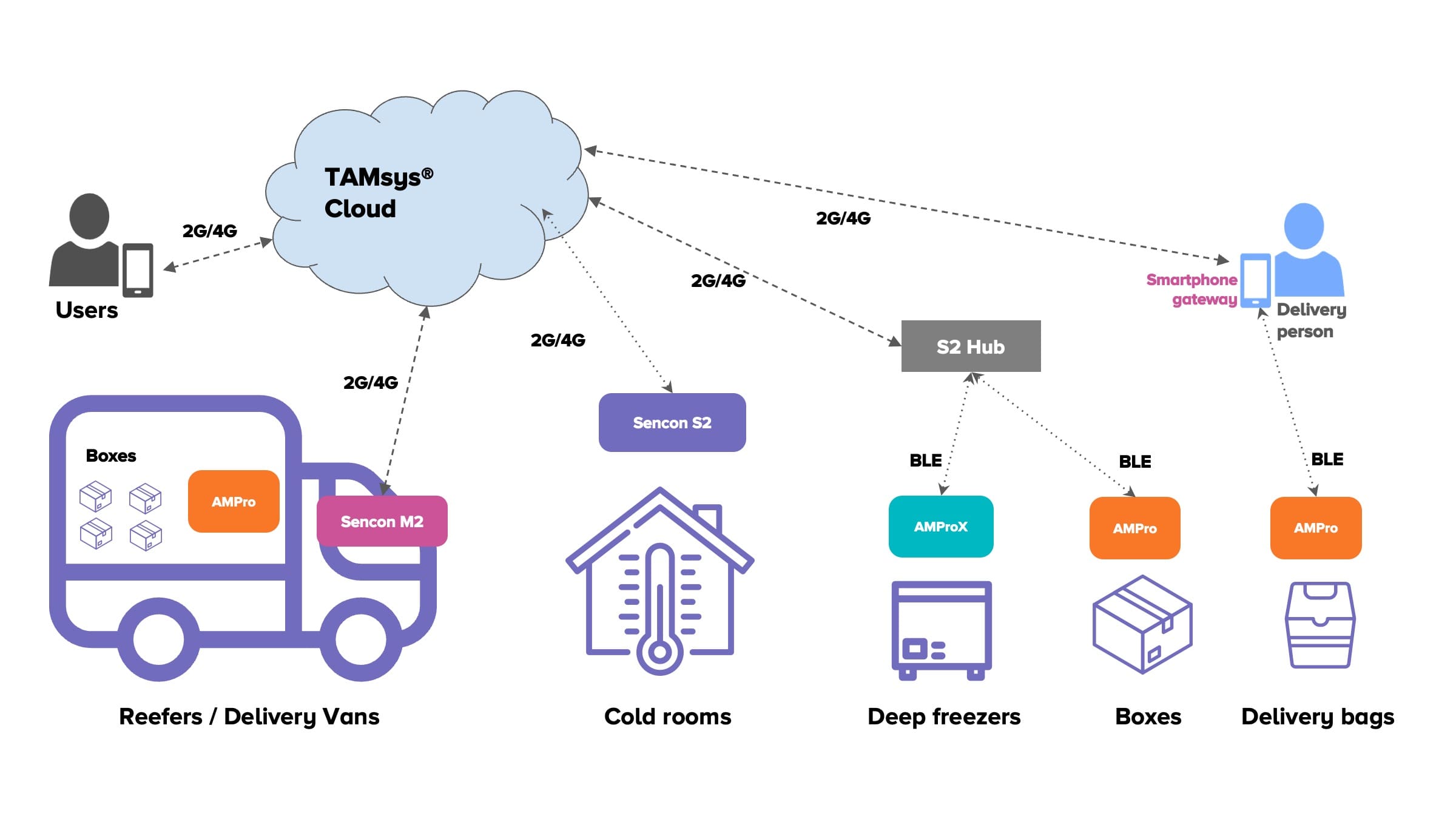 Our team is always ready to help you
With over 350 vehicles and 75+ home delivery units in operation, Tessol is currently present in 18 cities across India. Tessol has a pan India Sales & Service Network, proven product portfolio  and strong execution capabilities. Contact us at any of our channels and one of our experts will revert to you shortly.